So now that the bedroom ceiling is done and the whole room has a fresh new paint job I'm back to obsessing over bedroom furniture, specifically a Canopy bed. I've always wanted one since I was a little girl, at the time that meant ruffles and lace, but now I'm in love with the more modern look to them. And when I say in love, I mean total gushyness. Yes, I was at Pottery barn not too long ago with my mom and I saw this one, and I couldn't help but go over and pet it, and stroke it and make little baby sounds at it, put my head against the rail and look at it endearingly. And I'm sure I got strange looks, but I just couldn't help myself! Isn't she beautiful?
But at $1700 she's a bit out of my price range. Not to mention I'm not so sure how a big canopy bed is going to look in my smaller bedroom with 93" ceilings. So at one point I nixed the canopy bed and told myself "I'm going to make a fabric headboard". Since that is my 2nd favorite bed in rooms. But my heart keeps drifting back to that canopy bed…and it swells and without even trying I get a deep sigh come from within. Which leads me to believe that maybe I should follow my heart and get the canopy bed? Obviously not the Pottery Barn one though.
So I started searching and I found this similar canopy bed, but it's more of a dark brown/cherry finish vs an espresso finish which I think would go better with the red walls. Only $630 though! So that's a savings…
And then there is this one from Crate and Barrel for $1300, love the black finish and modern look, even the nightstands fit my criteria although WAY to expensive.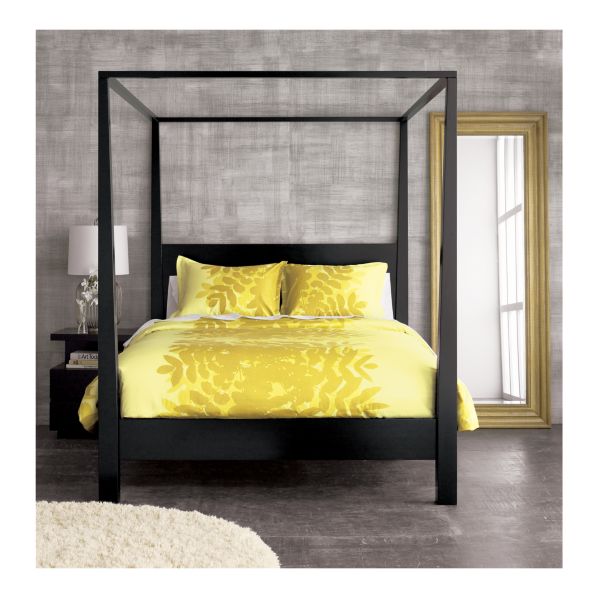 My ultimate goal for my room is to try to avoid the matchy matchy décor. I want my room to be unique and interesting, but also comfortable and inviting. I basically need all new furniture for the room. And with both of us storing clothes, one dresser is not enough so two is definitely needed. And I need a nightstand on my side of the bed, and I'm very particular on my nightstand. I want something like this:
Two drawers with a shelf on top. On top is key as I tend to keep books, my kindle and other random stuff that I want easily accessible to me in bed. But back to my bed dilemma…
After searching and searching, and finding very limited options, I finally found one that fit all my criteria…and after even more searching I found it for only $780! For a piece of furniture that is going to MAKE the room, I thought for this one item…I can splurge! So I did! Yes, you heard me, I BOUGHT A CANOPY BED! If you can't feel the excitement through the computer screen I would be surprised, cause I'm radiating it at the moment.
Pretty huh? Similar to both the Pottery Barn one and the Crate and Barrel one, but half the price! So hopefully I'll be able to show you pictures of it in the room soon! Or in 4-6 weeks when it gets delivered! Keep your fingers crossed that it will look good in my room, here's to hoping!